About Our Company
Being the best in our field means that we are committed to every project.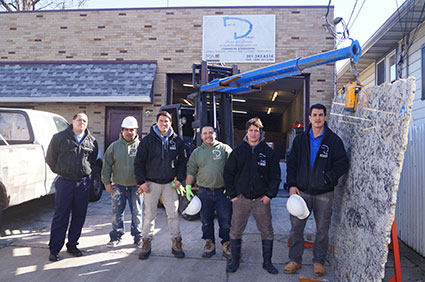 Divine Design is dedicated to providing both residential and commercial customers with the highest quality of service, material, and craftsmanship. Divine Design specializes in template, fabrication, and installation of Granite, Marble, Quartz, and Onyx for all your kitchen, bathroom or other applications. We also offer a range of solid wood cabinetry in many styles in stock, semi-custom, custom, stainless steel sinks and faucets giving you the perfect complement to your new countertop.
Family owned and operated, our company Divine Design Stone & Cabinetry  was founded in 2010; our primary goal is to meet the needs and expectations of each of our customers. We are committed to an innovative and creative strategy to respond assertively to the constant demands of the market.
With over 15 years combined experience in the business designing and installing products made in Granite, Marble, Quartz, and Onyx such as kitchen countertops, bathroom countertops, shower areas, stairs, floors, columns and more.
In our facilities, the process of transforming stone is carried out using the latest technologies in machinery but without sacrificing the artisanal touch that makes us unique; embellishing, forming, decorating and pampering the stone as the authentic stone masons that form our company. We use the latest technology and draw on our years of experience to provide our clients with very high-quality finishes, which maintain the brightness and impeccable quality of our products.
Also, our team of professional installers has extensive experience in the industry, so we measure and install anywhere in the tri-state area within a concise period of time. Our technical and design staff offers a personalized treatment to all our customers, solving any issue, answering any questions or doubts that may arise, as well as keeping them informed on the latest technologies.
Driven by the constant concern for the development of decorative and architectural projects and, by the incessant search for new products that provide the best benefits with the greatest aesthetic sense for our clients.
At Divine Design we are always ready to sit down with our customers and go over their projects at no charge. We are experts at making budgets work and providing the best price and quality… guaranteed.
Our Services
Being the best in our field means that we are committed to every project, we have ingenious ideas that become reality and we make every client happy.

What They Say About Us
Our experts have been featured in press numerous times.
The work has been phenomenal, and overall we have been very happy. It was less than what we budgeted for. They have been very professional since day one, the truth is that they inspired confidence from the first moment. They are not expensive.
It took me a while to contact them for the renovation but in the end it was worth it. They have helped me in the remodeling of my store and it has been beyond what we expected. What we valued more was the advice in choosing the materials and the distributors. I would definitely recommend them.
We thought for years to rent out our basement. Our budget was limited, Divine Design kept within our budget and delivered a quality job. I recommend them.
What a treat! Congratulations on the work done, we are very happy with the end result. They have managed to modify a classic home into a comfortable bright and modern apartment. Thank you.